ANNOUNCING WPLN'S 2023-2024 CLASS OF FELLOWS!
August 22, 2023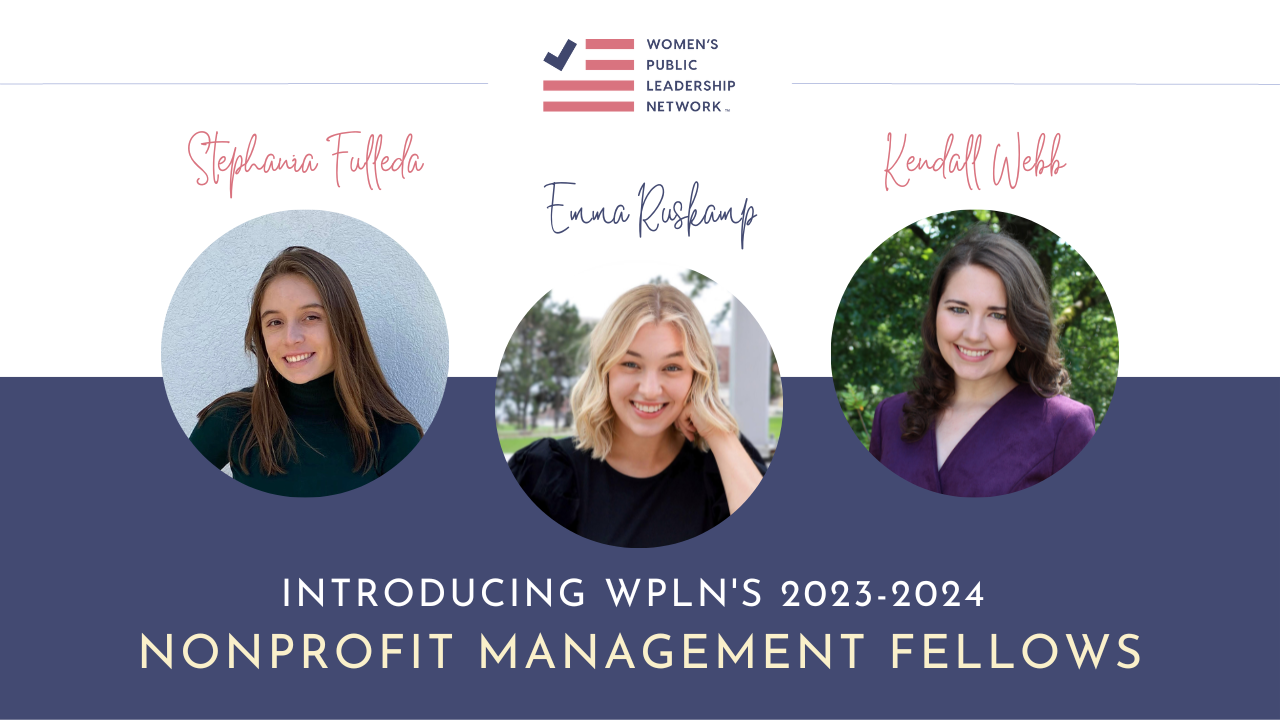 FOR IMMEDIATE RELEASE
Contact:
Katelyn Condrey
katelyn@womenspublicleadership.net
WPLN is pleased to announce today that we have launched the second cohort of our Fellowship for Nonprofit Management for the 2023-2024 academic year.
"It is with great excitement that I welcome the next cohort of fellows to the WPLN team this year," said Larissa Martinez, WPLN Founder and President. "The fresh perspectives and unique talents of these three young women will amplify the impact of last year's inaugural cohort. I look forward to continuing this program that not only provides an opportunity to receive mentorship and develop skills but also supports WPLN's work to build a network of support across the country and see more women at decision-making tables."
Three young women were selected for this Fellowship out of nearly 100 final applicants:
Stephania Fulleda, University of Georgia (Norcross, GA)

Emma Ruskamp, University of Nebraska Omaha (Columbus, NE)

Kendall Webb, Mercer University (Hot Springs, AK)
As part of the program, fellows will help build the capacity of our organization and assist our State Partners who identify, engage, and train women on the ground to seek public office. Last year, the inaugural fellows assisted four of our partner organizations: She Holds the Key, Virginia Conservative Women's Coalition, Louisiana Women Lead, and the Pocketbook Project.
"The WPLN fellow who assisted our organization, Georgia Polemenakos, was a fantastic asset to our programming and outreach efforts last year," said Jennifer Nassour, Co-founder and President of the Pocketbook Project. "In fact, her contributions were so valuable that when the fellowship ended, we decided to bring her onboard as an official member of our team. We are excited to see this program continue and witness the work that this new cohort will accomplish!"
In September, the fellows and WPLN staff will gather in Washington, D.C. for a two-day training weekend to kick off their efforts. This is the second year that WPLN has deployed a cohort of fellows.
###